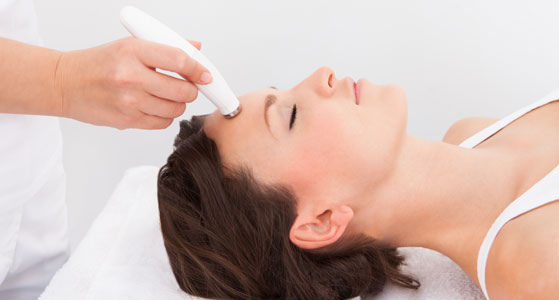 Price: €55 for 45 min  SPECIAL OFFER Buy 5 Treatments and get 1 FREE!

Microdermabrasion is a non-invasive, skin resurfacing procedure that gently exfoliates or polishes away the top layer of dead skin cells, while stimulating collagen growth, to reveal healthy new skin that looks and feels smoother. Fine lines, blemishes, dull skin and sun spots can be improved, especially with regular treatments. Products such as moisturizers, creams and lotions are more easily absorbed and therefore more effective after microdermabrasion treatment. This is a painless, low-risk skin treatment that can be added to your beauty routine.
Microdermabrasion Treats:
Fine lines & wrinkles – lips lines, crow's feet
Sun damaged skin
Acne prone or acne damaged skin incl. scarring
Blackheads/Whiteheads
Age spots and Hyper pigmentation
Oily, dry or Patchy skin
Rough skin texture and enlarged pores
Dark under eye area
Ingrown hair & Shaving rash
Benefits of Microdermabrasion:
Suitable for all skin colours & skin types
A complete facial in less than 30 mins
Excellent results on acne scarring
Reduced lines & wrinkles-perfect for aging skin
Highly effective on stretch marks
Smoothes appearance of cellulite
Circulation boosting
Collagen stimulating – firms & lifts
There are two general methods for microdermabrasion:
Crystal Microdermabrasion
For this type of microdermabrasion, a handpiece emits crystals onto the surface of the skin, resulting in a gentle abrasion or "polishing" process. Then the dead skin cells along with the crystals are suctioned off either instantaneously (in the same handpiece) or in a secondary process.
Diamond-Tip Microdermabrasion
This type of microdermabrasion works with a diamond-tip handpiece that gently abrades and exfoliates dead skin cells. Like the crystal microdermabrasion, the dead skin is either suctioned off right away in the same hand piece or in a secondary process. The diamond-tip microdermabrasion is safer to perform closer to the eyes and has more flexibility in sensitive areas or on more sensitive skin.
How long will the result last?
You will notice a healthy glow for a few days following microdermabrasion, but the best results can be seen after repeated treatments. The number of treatments recommended for maximal results can range from five to twelve, spaced two to four weeks apart. Maintenance of results requires periodic repeat treatments after the initial regimen is completed.
It is vitally important that you follow all patient care instructions provided by your surgeon. Your surgeon will also provide detailed instructions about the normal symptoms you will experience and any potential signs of complications.
It is important to realize that the amount of time it takes for recovery varies greatly among individuals.